Unleash Your Inner Lumberjack: Seasonal Axe Throwing Leagues at Aces Axe Throwing
Calling all axe throwing enthusiasts and aspiring lumberjacks! Aces Axe Throwing invites you to experience the thrill of seasonal axe throwing leagues at our premier location in Shrewsbury, PA. Whether you're a seasoned pro or new to the sport, our leagues offer an exciting opportunity to compete, connect, and embrace the exhilarating world of axe throwing.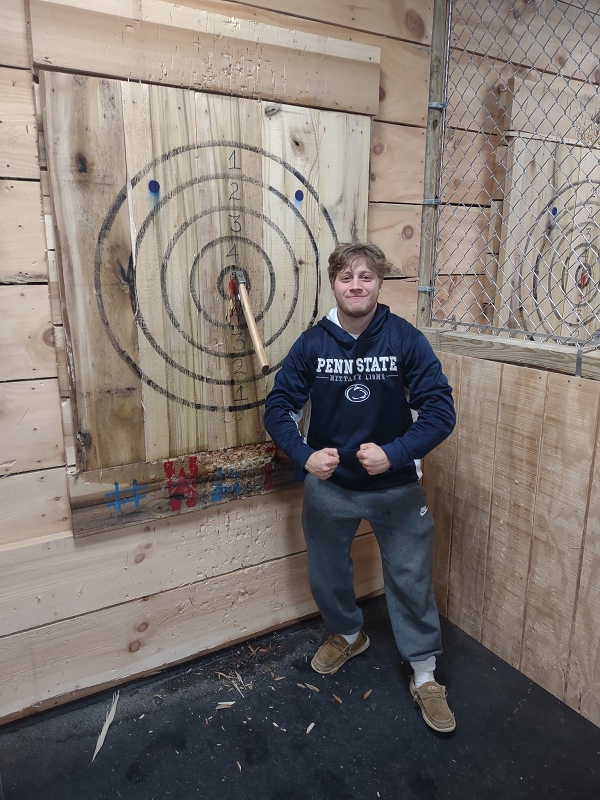 Why Join Our Seasonal Axe Throwing Leagues:

Competitive Fun: Get ready to channel your competitive spirit and test your axe throwing skills against fellow enthusiasts. Our leagues offer a platform to compete in a friendly and engaging environment.

Skill Enhancement: Seasonal leagues are not only about competition; they're also an avenue to enhance your technique. Receive valuable feedback, tips, and guidance from our experienced coaches to elevate your axe throwing game.

Social Connection: Joining a league is an excellent way to meet like-minded individuals who share your passion for axe throwing. Forge new friendships, exchange techniques, and celebrate each other's successes.
Prizes and Recognition:
Competing in our seasonal leagues gives you the chance to earn rewards and recognition for your achievements. Show off your axe throwing prowess and earn your place among the top contenders.
Location:
406 N Main St, Shrewsbury, PA 17361
Phone:
717-942-5819
Facebook Page:
https://www.facebook.com/AcesAxeThrowing
How to Participate:
Participating in our seasonal axe throwing leagues is easy. Simply contact us at 717-942-5819 to learn more about league start dates, registration, and league-specific details. You can also refer to our Facebook page for updates, announcements, and exciting league-related content.
Join Us for Axe-Throwing Excitement:
Whether you're aiming for the bullseye or seeking a unique way to unwind and connect, Aces Axe Throwing's seasonal leagues offer an unforgettable experience. Step into the world of axe throwing camaraderie, competition, and skill improvement.
Join us at 406 N Main St, Shrewsbury, PA 17361, or give us a call at 717-942-5819 to embark on an axe throwing journey that promises excitement, friendship, and the satisfaction of hitting your mark. Don't miss out on the thrill – become a part of our seasonal axe throwing leagues today!